Get the latest & greatest news of What Apple Music has to offer for free, and know How you can use Apple Music Free Forever with these Top-Tier methods.
Apple's world-renowned streaming service that launched back in June of 2015 has proven to an internationally, ground-breaking hit, where popular artists like Katy Perry & Jay-Z upload their albums primarily to Apple Music upon release. While that sounds good & all, the premium monthly subscription cost seems quite sinister & undesirable for many to grasp. Apple's 9.99$ a month is by no chance a justifiable price tag when compared to competing services like Spotify & Anghami for 4.99$; half the price for the same features slapped on a different UI.
However, if you prefer to stay true to Apple's service, yet simultaneously use Apple Music without paying a penny, then stray no further, as we unravel these unique ways to get Apple Music for free.
4 Ways to Get Apple Music for Free in 2023
Free Apple Music Account Subscription
---
The fastest way to reach Apple's vast sea of top-trending albums & song is via a free Apple Music Account. As mentioned earlier, signing up for a free Apple Music membership enables you to access the unlimited high quality audio content that Apple has to offer. Additionally, you can play Apple Music for free with the ongoing trial from a single account onto your numerous devices logged in to that one account. So, what are you waiting for? Go ahead on Apple music website & activate your free trial now by clicking button below!

How to Get Apple Music Free Trial (3 Months)
The first & most obvious way to get free Apple Music is none other than Apple Music's free trial of 3 months offered when signing up for the service.
The process is straightforward on how to get Apple Music's free trial: follow this link to commence your registration for Apple Music's free trial in no time to start enjoying your free Apple Music subscription.
In case you're not in a mood to visit the aforementioned Apple webpage to discern the sign-up & setup process of Apple Music, then we'll provide you with a short, descriptive procedure to get your free Apple Music membership.
1. Update your iDevice(s): Be sure to update your iPhone or iPod Touch to the latest iOS version, iPad to the latest version of iPad iOS, or install the latest version of iTunes on your Windows machine.
2. Open Apple Music: Open the "Apple Music app" on your iPad, iPod Touch, iPhone, or Mac. Launch iTunes if you're on PC.
3. Start a trial: Click or tap on the "Trial offer" to get started. Keep in mind that the trial works per one person or family.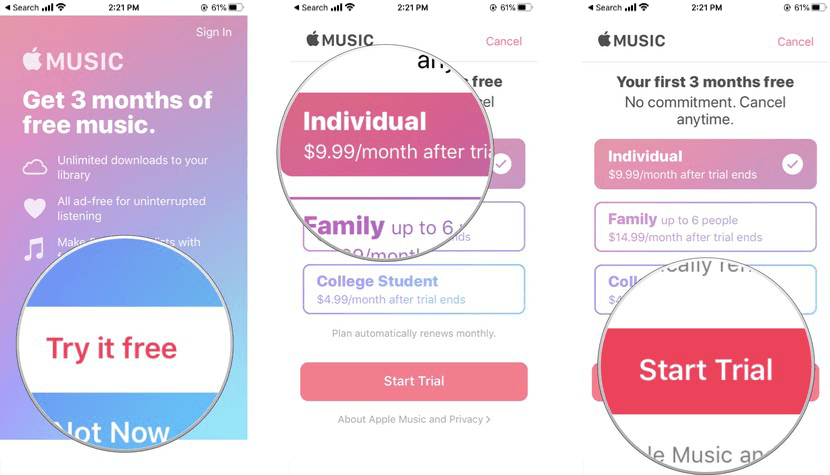 Apple music free trial
4. Choose your subscription: your range of selective subscriptions includes individual, family, student, or even on an Android device.
5. Enter your Apple ID: Log in with your Apple account, simply register in case you do not have an Apple ID.
6. Confirm your details: Input your billing information via valid payment method like VISA, MasterCard, or PayPal.
If you want to get apple music free without credit card, you might consider buying iTunes gift card and redeem it in the apple music app.
7. Start listening: Open the Music App on your iDevice(s) or Mac, or iTunes on your PC, then start searching & listening your favorite music freshly released from your beloved artists.
Want to Get Unlimited Free Trial?
After having exhausted the trial offer, If you want to enjoy free trial again. Sign out of the current apple ID and sign up for new one with different email id and add different payment method. Then sign up for Apple music just as we said in aforementioned steps. Now you are eligible to get another trial on apple music!
---
Apple Music Downloader
The sole reason of subscribing to Apple Music is due to its rich library of unrivaled streaming service that it offers to its users. Yet, not everyone will be willing to pay for this service on a monthly basis for listening to music, as users can simply download whatever songs they like & keep them forever, right ? WRONG! The sad truth is, the downloaded songs are DRM-protected & are linked to your account, so once you can cancel your Apple Music subscription, they're lost for good. Imagine the devastation: thousands of saved songs all perish from your device in an instant.
That's where 3rd party downloaders come into play. Their main purpose is to download the user's desired songs from Apple Music vast library either from deep-searching countless websites & getting the songs from there or by recording the selected songs through a special high quality audio recording software, upload the file to one of their low-latency, private servers, & then ultimately generate downloadable MP3 file of the songs for the user to grab. You might now think "Okay, problem is solved. I got Apple Music for free". Well, not quite. You see, there's a major caveat here. Most of these downloaders require a license key to activate their service. In other words, you must pay. The reason is that these high-end programs are developed by reputable companies that care to only make money from selling their products, rather than batting an eye for users' satisfaction. So you might as well not waste your time checking them out. Moreover, doing the job yourself of recording streamed soundtracks as an alternative way to use Apple Music without paying doesn't exactly generate the best output audio quality either. So then, what's the best solution to get free Apple Music ? Fret you mustn't, desperate reader. There are still online tools, namely DoremiZone, MP3Juices & the Snaptube android app that pretty much do the same thing as the aforementioned paid downloaders, for free this time.

DoremiZone
From an well-reputable free song grabber to a blazing fast audio-only YouTube downloader, DoremiZone has become notoriously known for its countless daily active users that've bookmarked this state-or-the-art online tool. Not willing to part with your bucks for Apple's streaming service ? That's fine. Because DoremiZone fetches high quality MP3 files of pretty much any song you search for, matching that of Apple's high quality streamed music. Its ease of use & multi-website support (including Vimeo, Dailymotion, Facebook, & Twitter) it's an excellent choice to getting Apple Music free membership while still evading the Cupertino-based company's monthly subscription payment.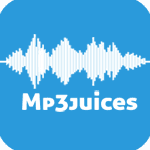 MP3Juices
With its multi-functional audio retrieval capabilities via the world wide web, MP3Juices has reached the hall of fame among the internet populus in regards to acquiring pretty much any (english) song that comes to mind. This site essentially has its own search engine, much like Google, that instantly brings up numerous search results of the song you're looking for: be it the original mix, or the countless remixes that song may hold. If that's not enough for you to gasp, then you'll be glad to discern it as a YouTube (audio) downloader as well. Simply paste the song's URL, hit that search button, & voila! You have your song ready to be downloaded. I guess you might say that that's your ticket to getting your favourite music featured in Apple Music. In other words, that's one way of accruing Apple Music for free.
TuneFab Apple Music Converter
TuneFab Apple Music Converter is the best tool you can use to listen to all your favorite tracks anytime, anywhere. Just download it for free, install it in your selected Apple device and start enjoying! This application can retrieve songs in Apple Music and convert them to the format of your choice. You can convert anything from a couple songs to whole playlists using this music converter. And if you're satisfied with it, you can buy the full version! TuneFab Apple Music Converter is your best tool for convert Apple Music to MP3, and it's available for Mac so you can use it in your selected device. Try it now!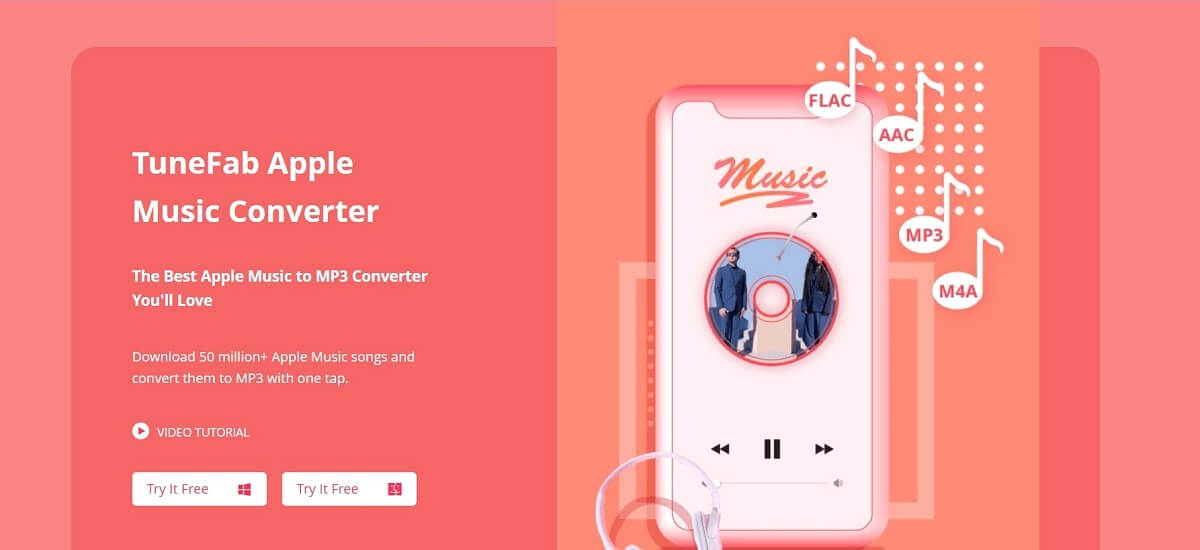 ---
Switch to Spotify Free
If you feel like wanting free Apple Music experience, without the concern of the 3-month trial period expiration, or the hassle of creating an iTunes Account that takes an eternity to do so, only to participate in Apple Music's free trial, then have no fear. Spotify Free is here.

When it comes to Apple Music, you're always under the impression of upgrading to Premium in order to not lose your downloaded or favorited soundtracks, for instance. Spotify, on the other hand is considered as the merciful, unthwarting, alternative option to use Apple Music without paying. In other words, all music albums & soundtracks streamed in Apple Music are also present in Spotify, completely free, forever. Although Spotify is absolutely free & seems better compared to Apple Music's free trial, it plays audio ads every few skipped tracks, which can be a bit annoying to some users, which is non-existent to those using Apple Music. Luckily, Spotify premium accounts offers an optional, ad-free, offline-access, Premium subscription that can be activated upon signing in or registering for the first time. You are greeted with a 3-month Premium trial which you easily opt out & revert back to the free version if you don't enjoy it. Should you become a Spotify Premium subscriber, & then your subscription ends later on without renewal, then you automatically return to using the free version, without losing your account.
If you've read through the whole article, then you're in for a treat. You'll get Premium Spotify for free on Android, iOS, & Windows platforms. And also the possibility of listen spotify offline with the help of Spotify music downloader apps. And finally we wanted to let you know about the free apple music code generator tools found on the internet. The tool may be look like real, this is just to make you easily fall and make you try it. But, the sad reality is its no more than a scam! Any tool that promises you generate free apple music codes or any other gift card codes are scam. So we techlacarte strongly suggest you that you must stay away from looking for hacks and generators. In this article We've already listed out all the possible way to listen free music on your devices. Just go for it.
Although Apple Music provides excellent music streaming service, there are still many users aren't willing to part with their money after the 3-month trial & continue to use Apple Music without paying, that is till the trial expires only to search for alternative methods to acquire a free Apple Music subscription or grab whatever featured songs that's played on the trending on Apple's premium streaming service.