Want to cut ties with the Apple music service? Is your free trial going to end soon or, after trying the service, you feel like it's not the right one for you? Here is a complete guide on how to cancel your Apple Music subscription, and what will happen after you do it.
Apple Music is a music streaming service created by Apple to listen to All kinds of music you love. All in one place. Apple Music comes with two main components: iCloud Music Library, which combines the library of all your downloaded music and tracks in one place; and the Apple Music streaming catalog, where you can find more than 10 million songs by artists from around the world.
These two features are usable at the same time within the Apple Music app: you can keep them separated only by streaming the Apple Music catalog, or you can add songs to your offline music library, where they can be included in playlists (either offline playlists or public ones), or mixed with the rest of your music.
In addition to this, Apple Music also offers a massive recommendation section and a navigation area called "For You" in your streaming catalog: As you listen to songs in the music app, the app will find new music you may like to listen to and suggest songs and artists that you might enjoy.
You can also take a look at all the new music tracks, videos, and much more from the streaming catalog. Finally, Apple Music includes a live radio station that is online 24 hours a day, 7 days a week, and it is only available for paid subscribers.
Apple Music Membership
To start using the Apple Music service on your iPhone, iPad, iPod or Mac, you need to subscribe. The Apple Music membership is a payment-based monthly subscription service. Nevertheless, in the beginning, the company offers a free 3-month trial version for everyone when they first sign up, available for every user, regardless of what kind of device they own. After the three months pass, you will have to pay $9.99 per month to continue taking advantage of everything Apple Music has to offer.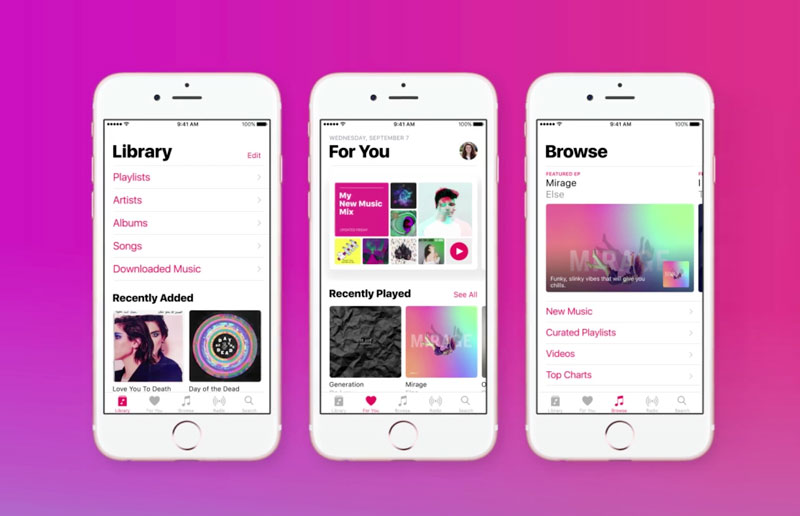 Apple Music offers three different membership plans with different prices: Student, Individual, and Family. You should choose the right one for you, depending on what will you do with the app. Apple Music Individual membership costs $9.99 per month, which is equivalent to the Spotify premium membership. Family Membership is available for $14.99 per month – this plan is good for families, as the name suggests. This membership plan allows the owner to install and use the app with the premium features on 6 different devices. On the other hand, if you are a university or college student, you can take advantage of the Student membership – there is a discount for students, at only $4.99 per month.
The truth is that Apple's music streaming service is really good, although it has several negative points, such as how poorly organized is the music library and how hard it can be to manage it correctly.
However, you may not be attracted to the idea of ​​paying $10 per month for Apple Music. You could also have tried it and decided that it's not the app for you. Whatever the case may be, you can cancel your Apple Music membership with just a few simple steps
How to Cancel Apple Music Membership / Free Trial in 2020
iPhone or iPad
1. Go to Phone Settings > Your profile > iTunes & App Store.
2. Tap on your Apple ID located at the top of the screen, then in the pop-up menu tap "View Apple ID". You might need to verify your passcode or sign in with your Apple ID.
3. Scroll to "Manage Subscriptions", then tap it.
4. Now you need to tap on your Apple Music subscription from the list and then scroll down to "Cancel subscription", tap it and "Confirm" it..
---
Mac or Windows
1. Open iTunes > Music and click on your name in the top bar.
2. Click on Account > View My Account and enter your password.
3. Click Manage in the Subscriptions section.
4. Scroll down the page to "Cancel subscription" and click on it.
---
This is all you have to do to unsubscribe from Apple Music. What we do is to stop the subscription's renewal after our free trial, so we can continue using the app if we wish to do so until the trial ends. If, on the other hand, you have already finished these three months and are already paying the monthly subscription fee, turning off auto-renew will stop any kind of payments. Therefore, you won't be able to keep using Apple Music after your last paid month. Until then, you can continue using it.
What Will Happen After Cancelling Apple Music Membership?
Once you cancel your Apple Music membership, any tracks you've added to your library from the Apple Music catalog will no longer be available to play. You won't be able to search through the streaming catalog or play your custom playlists. If you want your tracks back, you will be able to recover them if you pay your subscription again between a period of 30 days since your membership ended. You won't be able to add content to your Apple Music library, listen to radio stations, download music, or get suggestions from experts after cancellation.
Finally, if you've purchased and saved music in your devices before, you won't be able to do cross-streaming (listening to said music in all of your devices). Your downloaded songs won't disappear – you can transfer them between devices using other means.
We sincerely hope this article has been helpful to you. If you have previous experience with the Apple Music service, don't be shy and tell us about it in the comments – we look forward to reading you. In techlacarte we are running a netflix account giveaway don't forget to participate in it!