Looking for a Free Virtual Phone Number to Verify your Google Account Sign Up? These 5 Free Websites will give you Free Phone number for gmail verification or Youtube.
Given how companies like Google, Microsoft, Facebook, as well as other big corporates require your personal phone number in order to verify your account registration in order to utilize their services properly, such as establishing a business account, or running a YouTube channel. Phone number provision is obligatory for what these companies claim to be in the name of account recovery, privacy, & security. While these companies may justify such action, many of their users think otherwise: they simply are too uncomfortable sharing their personal data, especially their own phone numbers.
Thus, we've decided to round up these highly-reputable, free-to-use websites that can provide a variety of fake phone numbers and its all can be used to create google account with virtual phone number, given their availability in the region you're in. Just be sure not to use these websites to activate a Bank account or anything majorly related. If you are looking to get virtual phone number for whatsapp, do remember to check our guide in the given link.
Free Virtual Phone Number for Receive Google Verification Code Online
1.

Receive-SMSS
With over a dozen virtually active numbers for you to choose from, Receive-SMSS has easily become one of the most used online tools worldwide to generate virtual numbers.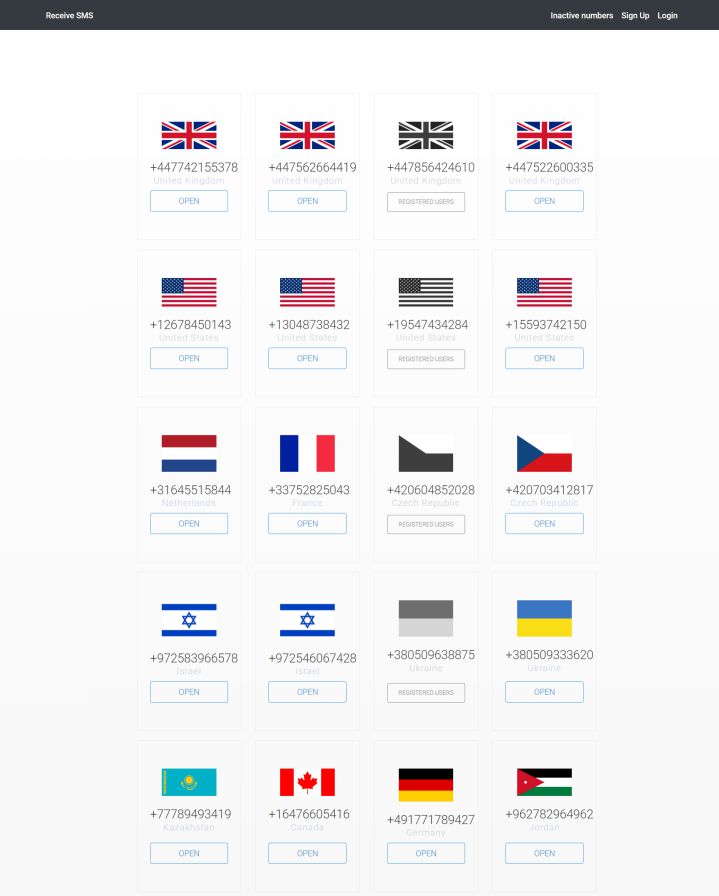 The downside with this site is that any SMS you receive, say a verification code or a message from a friend or family member, can be easily read by anyone who uses the same number you've chosen from the list. So, keep in mind that SMS privacy is not an option here. Additionally, you can only receive, but not send messages using this site making it unidimensional; simple, yet lacking features & not very robust.
---
2.

Get Virtual Numbers for Gmail Verification on Receive-SMS
While Receive-SMSS (not to be confused with this Receive-SMS) is considered simple & intuitive, it may seem impractical to others due to its demerits in regards to privacy. Receive-SMS frequently generates virtual, non-traceable numbers that allows message receival spam-free & private, should the user choose so thanks to click on the "Create Your Private Inbox Function" button at the bottom of the webpage. On the other hand, messages can only be received for the sake of, say activating your new account, but not for anything aside from that.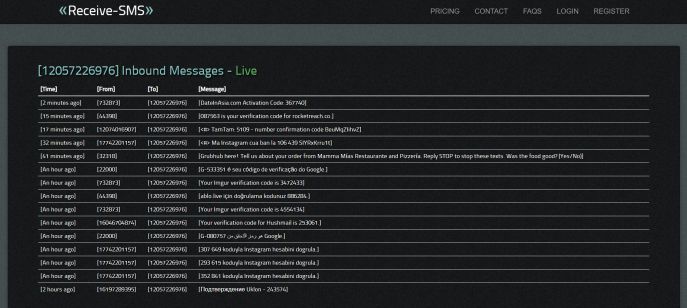 This is pretty much expected from other websites that offer similar functionality, some of which are to be discussed down the line. On the plus side, Receive-SMS provides received SMS's within seconds when utilizing one of their generated numbers. Hit the website link given below if you're willing to give it a go.
---
3.

Free number for Youtube verification on ReceiveFreeSMS
If you're a person who's in a hurry to acquire a 100% free, temporary phone numbers that mimics a legitimate one, without the hassle of scrolling or signing up for what a website has to offer, then look no further than ReceiveFreeSMS.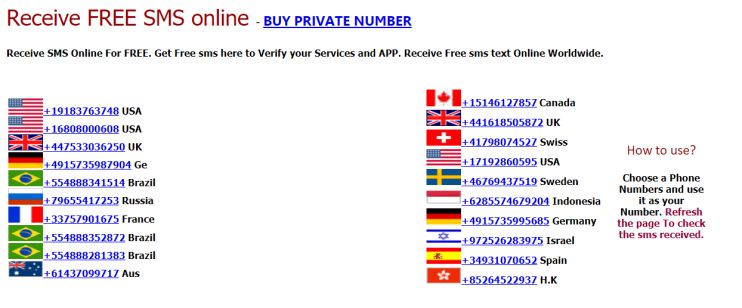 Virtual Phone Numbers on ReceiveFreeSMS
Its webpage is literally plain with a set of numbers for you to choose from, alongside a couple of ads here & there (nothing too annoying). Consequently, many users have used their internationally available fake numbers, ranging from Belgium, Spain, Canada, & UK where all of them numbers so far are reportedly working perfectly fine when it came to verifications for Gmail, to receive Telegram verification code online & Facebook account sign-ups.
Given how it's straight-to-the-point approach, & how many are satisfied by the offered service, ReceiveFreeSMS does stand out among competing websites that provide similar functionality.
---
4.

SMSReceiveFree
Say you want a disposable number for one-time use, simply acquire a few messages or verification code(s). The task is best suited for SMSReceiveFree which allows you the receive SMS messages instantly from the auto-generated number dedicated to the user, where messages are discarded after seven days & the generated number allotted to the user is absolutely disposable.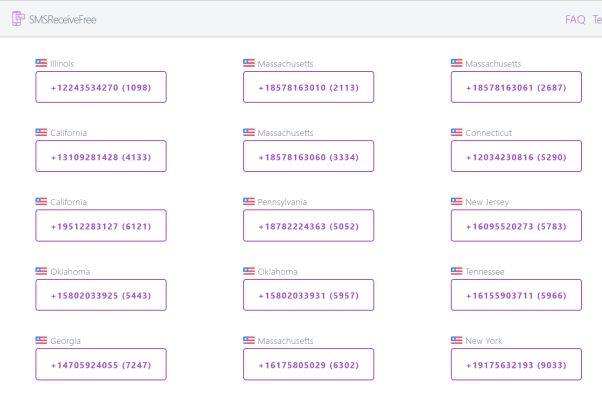 Disposable phone number on SMSReceiveFree
This site has been widely praised in the USA & Canada where it's typically used when creating Facebook, Outlook, & Gmail accounts. This site is being constantly updated with more & more locations to provide more options for users to select from virtual number without SIM card. For the time-being however, it's not supported worldwide. VPN usage is therefore recommended. Adding to the fact that it's region-restricted (works only in the aforementioned 2 countries) it uses advertisements in order to function, where the user is prompted to disable adblocker, whenever activated on user's browser. In any case, if you're in preference of acquiring a disposable, untraceable phone number, then be sure to head to SMSReceiveFree website.
---
5.

FreeOnlinePhone
Jumping straight up to a number & getting your awaited verification code for your registered account has never been more rapid than with FreeOnlinePhone, thanks to its clean user-interface, one-click button action, & instant SMS receival makes it quite convenient & preferable among thousands of daily active users who often use virtual phone numbers who just want to grab a code from a sign-up, or simply receive a quick reply.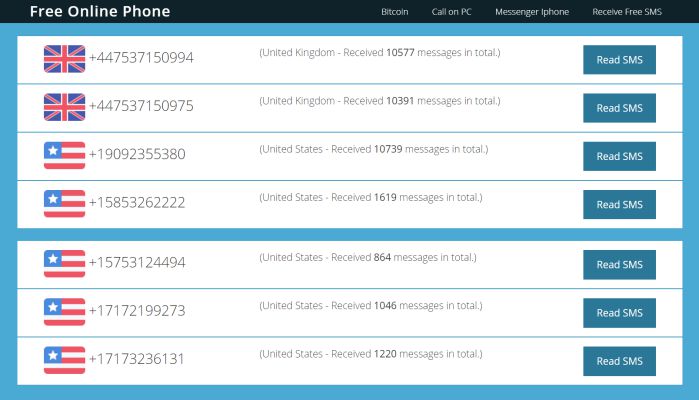 Create Google account without phone number
Yet, this site allows are incoming messages to be viewed by the public, just like Receive-SMSS. So, if you do not mind your received SMS message to be viewed by anyone surfing the site, as well as stumble upon the narrow selection of provided fake numbers on their site (mainly Canada, Sweden, US, & UK phone codes), then you won't be disappointed by what this site has to offer, added to the fact that the site is totally free & registration is not required.
---
*

Special Tip

*

Gmail Phone/SMS Verification Code Bypass in 2019
Now this method works only if you've gotten a spare account, where no phone number is required, at all. In order to create a fake Gmail account, you must first make sure you're signed out of any accounts you've logged in. Keep in mind that this trick only works on Gmail, & not other mail providers such as Outlook or Yahoo.
By following this method you can create Gmail account without phone number verification! Now that you're ready, just follow the steps we shown below.
Steps to Bypass Gmail, Youtube verification code:
1. First things first, Go to the Gmail Sign up page. Enter your credentials (name, email, password, etc.) but be sure to set your age to 15 (set the year of birth to 2004, now in 2019).
2. Gmail will think that you're too young to own a phone number. So it will either allow you to skip this step, or provide a recovery email address, & that's where the spare account comes into play.
3. The verification code for your registered account should arrive soon & input the code onto the registered account.
4. Congratulations! Your new account is now verified. Now you can login with this account on any device, hassle-free. Thanks to this method, Which let us create a couple of accounts & keep them active, with no issues whatsoever.
Bonus Tip: Create another fake account & use your new fake account as recovery email, so on & so forth. This was you'll have countless fake accounts.
Alas, many of us can discernably agree that the phone number verification method can prove to be quite the hindrance upon signing up for Gmail, Outlook, or any mail provider, where the composed account could be simply for carrying out simple, short-terms term tasks. And for that, fake number-providing websites have emerged in order to suppress such an obstruction.